If you're planning a trip to Victoria, Australia, you won't want to miss out on the chance to visit some of the best beaches the state has to offer. From family-friendly options to popular surfing spots, there's something for everyone.
If you're ever in Victoria, Australia, be sure to check out these amazing beaches! You and your family will love them.
Here are eight of the top beaches in Victoria that you and your family will love:
1. Portsea Beach
This beach is well-known for its stunningly clear water and beautiful white sand. It's the perfect place to relax and soak up some sun. Plus, there's plenty of room for everyone to enjoy. The beach town offers stunning views and plenty of opportunities to enjoy the water. Plus, there are several restaurants and cafes to explore.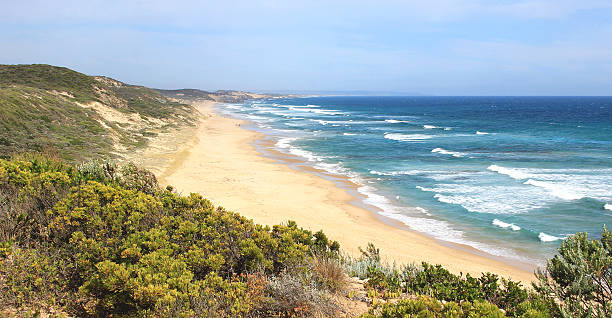 2. Lorne Beach
Lorne Beach is another great option for families. The beach is also located close to some of Victoria's best wineries, making it the perfect spot for a day trip. It offers stunning views, a relaxed atmosphere, and plenty of space to play and explore. The waves here are also perfect for body surfing or boogie boarding.
3. Phillip Island Beach
This beach is perfect for those who love wildlife. You can often spot penguins, dolphins, and other animals right from the shore. Plus, the sand is lovely and soft.
Phillip Island is a great option for families looking to enjoy some time together outdoors. The island offers plenty of activities for everyone, including swimming, fishing, and hiking.
4. Bells Beach
Bells Beach is one of the most well-known surf spots in Australia and is a great place to catch some waves with your family. The beach is located just a short drive from Melbourne and offers beautiful views.
Bells Beach is a surfer's paradise. The waves here are some of the best in the world. Even if you don't surf, though, it's still a great place to relax and enjoy the incredible views.
5. Torquay Beach
Torquay Beach is the perfect place to unwind. It's quiet and secluded, but still offers stunning views of the ocean. Plus, it's just a short drive from Melbourne, making it easy to get to. The beach town offers plenty of activities like swimming, surfing, and golfing. Plus, there are plenty of shops and restaurants to explore.
6. Inverloch Beach
If you are looking for a beach that offers a little bit of everything, then Inverloch Beach is the ideal choice. This beach has it all – from swimming and surfing to fishing and kayaking, there is something for everyone at Inverloch. Make sure you check out the nearby towns of Inverloch and Wonthaggi for some great food and shopping options.
7. Anglesea Beach
Another beautiful beach located in Victoria is Anglesea Beach. This beach is popular with both locals and visitors alike and offers plenty of activities for everyone to enjoy. Whether you want to go for a swim, try your hand at surfing or just take a stroll along the sand, Anglesea Beach is the perfect spot.
8. Wilsons Promontory Beach
Located at the southernmost point of mainland Australia, Wilsons Promontory Beach is a must-visit for any beach lover. With its pristine waters and untouched natural beauty, this beach is truly a paradise. Don't forget to explore the surrounding national park while you're here!
These are just a few of the amazing beaches Victoria has to offer. So, next time you're in the area, be sure to check them out! You won't be disappointed. You and your family will love spending time at any of these destinations.
For Melbourne beaches, just simply click it.